On holiday last week Imogen had her first taste of a jam doughnut from the wonderful Pump Street Bakery in Orford. Taking a first bite…
Mmmmmm, delicious!
Yep, she loves it!
The next day Imogen asked if she could have a 'coconut' and then went on to say she couldn't have one because it has nuts in it. We soon realised Imogen was talking about wanting another doughnut so Mummy and Daddy explained there are no nuts in a doughnut (or a coconut)!
I simply love discovering the world all over again with my two and a half year old!
Linking up with the lovely bloggers at What's the Story? and Magic Moments.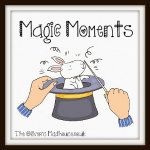 Category: Blog, Family Life, Travel & Holidays