Category: Recipes
I made my quick and healthy Simple Fish Pie last night and it was devoured in no time!
A delicious and hearty meal for toddlers, children and the whole family.
Pumpkins will be out in force over the coming weeks as Halloween approaches. My family loves eating pumpkin. We find this versatile orange fleshed vegetable delicious in soups, pasta, rice, salads, baking and as a sweet roasted vegetable.
Pumpkin is highly nutritious and contains the antioxidant beta-carotene and vitamin C.
The sweet flavour of pumpkin is perfect when weaning your baby and pumpkin puree can be given to babies from the age of 6 months. Pumpkin was one of the first vegetables my baby tried and it has remained a firm favourite.
Now that the weather is cooler you might like to try a quick and easy recipe for Pumpkin and Apple Muffins. In this recipe the pumpkin, apple and raisins have a natural sweetness and the cinnamon provides a hint of warm spice to the muffins.
Makes 12 muffins.
Pumpkin and Apple Muffins
2 cups Self-Raising Flour
2 Eggs
1/3 cup Vegetable Oil
1 teaspoon Cinnamon
1 cup pureed Pumpkin (I used Butternut Squash)
1 grated Apple
1/3 cup Raisins
1. Peel and cut the pumpkin into cubes. Boil until the flesh is tender when pierced with a knife. Drain. Puree the pumpkin in a food processor, with a hand blender or by hand.
2. Preheat the oven to 180 C. Grease a 12 cup muffin tin or line with paper muffin cases.
3. Wash and grate the apple.
4. Add the vegetable oil to the pureed pumpkin, grated apple and raisins. Stir through until just blended.
5. Add the eggs and mix well.
6. Gently stir in the cinnamon and flour.
7. Bake at 180 C for 20 to 25 minutes or until a cake skewer inserted in the middle of a muffin comes out clean.
8. Leave the muffins to cool on a wire rack for a few minutes.
These Pumpkin and Apple muffins are great for the family to enjoy at breakfast time or as a tasty snack during the day.
Lydia Oliver – Nutritional Advisor Only Best For Baby
This article was published in the October 2013 edition of Mummy and Me Magazine. 
I offer one to one nutrition programmes for breastfeeding, post pregnancy weight loss, weaning advice, weight management and health. Contact me.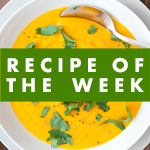 I don't like to eat too much wheat and try to keep it to only those times when I'm on the run and need to grab a quick sandwich. At home I buy Biona Organic Spelt Pasta
and Biona Organic Rye Bread
which Imogen and hubby both love, so we all enjoy the health benefits of eating spelt and less wheat. Spelt pasta is wholemeal and cooks in 5 minutes.
Last week I made Biona Organic Spelt Pasta
with organic spinach and avocado. So simple. I just added a dash of pesto and a twist of ground pepper.
The finished product = wheat free, quick, healthy and delicious!
My local Waitrose supermarket stopped selling Biona products several months ago and I've since discovered Biona Organic Spelt Pasta and Biona Organic Rye Bread on Amazon
which offers a subscribe and save deal as well as free postage.