Tag: books
The lovely team at Kidstoria contacted me to see if I would like a personalised book for Imogen. It was the first time I had come across the idea of a personalised book for children. I have discovered it is a wonderful way to create a fun learning experience as well as being a precious keepsake.
The personalised book for Imogen where she is the main character of her very own story.
You have the choice of four different story options for your child's book. These can be previewed on the Kidstoria website so you know exactly what the story entails. Each story is suitable for boys and girls and is customised with your child's name and face.
Imogen reads 'Imogen and the Picnic' for the very first time. At first she is slightly surprised to see herself as a character in the story! It's not long before she starts talking about Teddy who is sharing the picnic with her and what they are eating together.
Imogen points out small details and talks about the characters in the illustrated pictures.
Daddy reads the story with Imogen as she explains what she is doing in the story with Teddy. This is a fabulous way to encourage the great imaginations of little ones.
As well as books, Kidstoria also create personalised cards for babies and children.
Disclaimer: Kidstoria sent me a personalised children's book for the purposes of this review. All opinions and thoughts are my own.
Linking up with What's the Story? and Magic Moments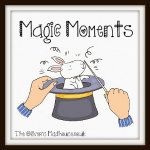 Last Saturday I was invited to attend the launch of Annabel Karmel's new App Annabel's Essential Guide to Feeding Your Baby & Toddler at the Apple iStore in Regent Street.
The event was hosted by TV and radio presenter Jenni Falconer. Annabel talked about being a mother, coping with fussy eaters and how she began writing recipe books. Her career takes her all over the world as she continues to educate and encourage millions of parents on how to create simple and healthy meals for baby, toddler and child.
Annabel gave a demo of her new App which includes 200 healthy recipe ideas, handy meal planners that you can personalise to suit your family, a shopping list feature and videos showing how to prepare food. This App ensures you'll never be stuck for ideas at mealtimes. There's a handy section on Tips and Advice covering everything from foods for babies and toddlers to allergies and batch cooking.
Since Imogen was a baby I've read the range of Annabel Karmel Books
and found them helpful as easy reference guides to weaning and now for generating toddler meal ideas.
I met a wonderful group of bloggers at this event and after the launch we all sauntered in the London sun to 5th View in Piccadilly to have afternoon tea with Annabel Karmel and her lovely team.
Clara Vulliamy is a talented writer and illustrator of children's books. Her range of books include Martha and the Bunny Brothers, Muffin, The Bear with Sticky Paws and Lucky Wish Mouse. One of our favourites is Martha and the Bunny Brothers with the delightful character Martha her younger brothers Monty and Pip.
National Hug Day is celebrated on 21 January and Clara shared illustrations of Martha, Monty and Pip enjoying different hugs in her post Happy National Hugs Day.
I'm an avid reader of Clara's blog and responded to her suggestion for a new hug with the idea of a 'pet' hug. Clara kindly illustrated a bright and cheerful hug with Martha and Paws.
When we return to London I'm going to frame this superb illustration and hang it in Imogen's nursery as a reminder of the importance of hugs with our loved ones each and every day.
You can view Clara's beautiful illustrations and find out more about her books and fun arty things to do at Clara's blog Sunny Side Up! And if you're like us and are fans of Martha and the Bunny Brothers there's also a Happy Bunny Club for your children to join.