Tag: cook
I promised in my Homemade Advent Calendar post last week that I'd share my recipe for Healthy Flapjacks. I'll be popping some of these into Imogen's Christmas advent calendar as a deliciously natural, sweet and chewy treat.
These are easy to make and last for several days in the fridge if you can keep them for that long without little (or big) fingers getting hold of them…
Makes 15 Flapjacks
Ingredients
1 Apple
60 ml 100% Orange Juice
1 cup Whole Rolled Oats
1/3 cup Raisins and finely chopped Dried Apricots
3 teaspoons Sesame Seeds
1 teaspoon Cinnamon
Method
1. Heat the oven to 180 C. Line a 22cm cake tin with baking paper.
2. Wash and core the apple. Cut into thin slices and place in a pan. Add the Orange Juice and bring to the boil.
3. Reduce the heat and simmer for 10 minutes, uncovered and stirring occasionally until the apple is soft.
4. Puree the Apple and Orange Juice with a hand-held mixer or in a food processor.
5. Stir the Cinnamon, Oats, Sesame Seeds, Raisins and Dried Apricots into the apple puree and mix well.
6. Tip the mixture into the tin and spread out evenly at approximately 1 cm thick.
7. Bake for 20 to 25 minutes until firm and golden brown.
8. Let it cool before cutting into wedges.
As an alternative to buying organic muesli bars I make flapjacks with organic ingredients and we take a couple out with us each day for after the playground. Some weeks I use pears rather than apples and substitute the orange juice for apple juice. Have fun creating your own version.
Enjoy healthy flapjacks as snacks, an after dinner treat or pop into your child's lunch box.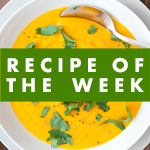 As a Nutritional Advisor I'm passionate about healthy eating, nutrition, organic produce and getting back to nature.
Food should be fun, natural and fresh. Healthy eating ensures you get all the right nutrients from your food to provide you with the best possible health and wellbeing.
Riverford is my favourite choice for fresh, organic produce. There's a fantastic selection of organic produce including veg, fruit, meat, cheese, bread, dairy and more. There's free delivery on all of Riverford's fruit, veg and meat box orders. Riverford grow their own and deliver only the best fresh organic produce across the UK.
My baby is in the process of weaning and we're having great fun experimenting with fruit and veg. It's hugely entertaining watching the expressions she makes as she tries something new, or if my latest recipe doesn't taste quite as she expected! One of the great joys of being a parent is helping my baby learn about good nutrition, healthy eating and living well.
Riverford Organics have just launched their brand new iPhone app, with over 770 searchable recipes – inspired by their Field Kitchen restaurant and the recipes they write for their organic vegboxes. Check it out Riverford iPhone App.
Riverford are currently giving away a free copy of their bestselling book Riverford Farm Cook Book RRP £16.99 when you order one of their brilliant veg boxes.
The Riverfood Farm Cook Book is full of original recipes and is a wonderful companion to your veg box, providing delicious recipes to bring out the best in your veg box.