Tag: featured
The lovely team at Kidstoria contacted me to see if I would like a personalised book for Imogen. It was the first time I had come across the idea of a personalised book for children. I have discovered it is a wonderful way to create a fun learning experience as well as being a precious keepsake.
The personalised book for Imogen where she is the main character of her very own story.
You have the choice of four different story options for your child's book. These can be previewed on the Kidstoria website so you know exactly what the story entails. Each story is suitable for boys and girls and is customised with your child's name and face.
Imogen reads 'Imogen and the Picnic' for the very first time. At first she is slightly surprised to see herself as a character in the story! It's not long before she starts talking about Teddy who is sharing the picnic with her and what they are eating together.
Imogen points out small details and talks about the characters in the illustrated pictures.
Daddy reads the story with Imogen as she explains what she is doing in the story with Teddy. This is a fabulous way to encourage the great imaginations of little ones.
As well as books, Kidstoria also create personalised cards for babies and children.
Disclaimer: Kidstoria sent me a personalised children's book for the purposes of this review. All opinions and thoughts are my own.
Linking up with What's the Story? and Magic Moments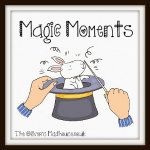 The doors to the brand new Little Liberty range opened on 1 March 2012. This exciting range of designer baby clothes, designer children's clothes, toys, gifts, accessories and books spans almost 2,000 sq ft on the 3rd floor of Liberty London.
The designer range of beautiful baby and children's clothes is suitable for boys and girls, from newborns to 8 year olds.
View the online Little Liberty Baby Boy clothing range and the Little Liberty Baby Girl clothing range.
Highlights from the baby clothing range are brands Bonnie Baby, I Love Gorgeous and Kidscase for beautiful baby clothes.
Little Liberty's fashionable childrenswear collections include Petit Bateau, Miller and Liberty brands such as Stella McCartney, Paul Smith, Acne and Isabel Marant.
The shop floor of Little Liberty is themed to entice and entertain children and adults alike. The store is decorated in story book style with hand-drawn illustrations.
The range of toys have been selected with a theme of Create and Play. Choose from giant paper models that can be decorated to your child's desire, musical toys such as guitars and tambourines, Seedling's 'make your own' kits from bespoke tutus to superhero capes. Beautiful wooden activity toys by Kiko and puzzles and playthings by Djeco.
There's even an exclusive Bugaboo with a Liberty Arts fabrics printed buggy hood and pram cover.
If you're looking for unique gifts for baby or child you will find Little Liberty has amazing wall stickers, vanity cases, height charts, stationery, lamps, pouffes and accessories for nurseries and bedrooms.
You can visit Liberty London to view this debut collection or shop online at Little Liberty.
As your baby grows their muscles strengthen and coordination develops which will lead to crawling.
From crawling your baby will start to pull themselves up on to furniture to a standing position.
The next stage is to cruise the furniture, walking around and holding on to things that allow baby to achieve the balance that is still required before they can walk alone.
Baby walkers can be used when babies are learning to walk to help with their mobility and to provide the support they need to take their first steps.
The best baby walker is the VTech First Steps Baby Walker
which gives your baby the support they need to take their first steps.
Key features of the VTech First Steps Baby Walker
are textured wheels, easy grip handles for your baby to hold onto when walking and a sturdy frame.
The VTech First Steps Baby Walker
incorporates a detachable learning centre full of activities with shapes, musical keys that light up and introduce letters, words, numbers, animals, colours, songs and melodies. The learning centre also features a moving butterfly, discs and rollers to develop manipulative skills. And if your baby is like mine, they'll love the role-play phone (which will hopefully keep your phone free from dribble)!
The VTech First Steps Baby Walker
can be stored in small spaces and is easily assembled.
Your baby will have plenty of fun and play time with the VTech First Steps Baby Walker
which is suitable from 6 – 30 months.