Tag: peppa pig
Sunday morning is not complete without getting on the Scooter and scooting as fast as possible. This Sunday we had fun putting Peppa Pig stickers on the front of the scooter before heading out for a ride. Find out how Imogen learnt to ride her scooter.
Visiting the local park for a climb, swing, see-saw, run around and slide.
Enjoying the sunshine and wearing her cool shades. Eight months ago Imogen published The Baby Style Guide to Wearing Sunglasses. She's still following the guide!
Linking up with the lovely bloggers at What's the Story? and Magic Moments.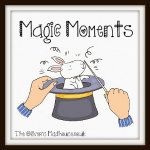 Until May this year we were blissfully unaware of the world of Peppa Pig. Since stumbling upon a Peppa Pig DVD on holiday in Quimper we have all fallen in love with the fun Peppa Pig and her family. George her little brother and his dinosaur, Mummy Pig, Daddy Pig, Grandpa Pig and Grandma Pig.
Our favourite Peppa Pig DVDs are Peppa Pig – Bubbles
with 12 delightful tales of Peppa and her friends and Peppa Pig – Princess Peppa
with 10 funny tales.
We also have Peppa Pig: Little Library
which is great for travelling and compact enough to take out in the pram bag.