Tag: soup
If you're looking for a super quick and healthy meal that can be eaten for lunch or dinner my Butternut Squash soup is perfect. I serve it with Biona Organic Rye Bread
which is delicious, nutritious and wheat free.
Packed with nutrients this hearty Butternut Squash Soup recipe is great if you want to save time and prepare extra for enjoying later during the week or month. It can easily be frozen, defrosted and reheated when needed.
Serves 4
1 Butternut Squash Pumpkin
1 Red Onion
2 cloves Garlic
Dash of Olive Oil for cooking the onion and garlic
Pinch of All Spice
Ground Pepper to taste
1. Chop the onion and crush the garlic. Saute in a little olive oil.
2. Peel and chop the butternut squash pumpkin into small cubes. Bring to the boil and cook until soft.
3. Drain the butternut squash keeping approximately 500 ml of the water.
4. Add a pinch of All Spice for flavour.
5. Use a handheld blender to blend the butternut squash, water, onion and garlic. Add extra water and blend as needed until you have your preferred consistency for the soup.
6. Add ground pepper to taste. Serve with organic rye bread (or toast).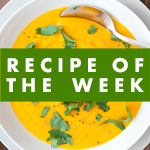 I'm not a fan of recipes, simply because I like to be a little creative and find it hard to stick rigidly to a recipe.
Unsurprisingly things don't always work out as they should, but they still end up tasting great.
For lunch I made a Super Vegetable Soup.
It's super because:
I use all organic ingredients
It's packed full of vitamins, minerals and hearty goodness
It's really quick to make
I make it using only one pan
It's great value for a fresh and nutritious meal that feeds 6 people
I chop the vegetables roughly because they're blended with a Hand Blender
This soup is perfect for anyone wanting an easy, quick, healthy and filling meal to feed their family.
Organic Ingredients:
1 small Red Onion
2 cloves of Garlic
2 Leeks
2 Carrots
6 New Potatoes
Half a Buttnernut Squash
2 large handfuls of Kale
A splash of cream can be added to taste when serving
How I make it:
Chop onion, garlic, leeks and saute in a large pan. When sauteed I transfer these into a bowl whilst I prepare the remaining vegetables.
Chop the carrots, potatoes and butternut squash into small cubes and add water to just cover the vegetables. Boil until cooked.
Wash and chop the kale and add to the pan of boiling vegetables. Cook for 2 minutes.
Blend the vegetables in the pan using a Hand Blender.
And there it is, cooked and ready to eat!
I don't add salt or pepper when cooking the soup so it's suitable for my baby to eat.
Pepper and salt can be added to suit individual tastes when serving. Add a splash of cream if desired.
Serve the soup with warm crusty bread.

What's your favourite winter soup?

This is such an easy recipe for a really nutritious meal. I make this soup using all organic vegetables, they're free from chemicals so better for your family and the soup will taste delicious.
This Leek and Potato Soup recipe can be prepared in 10 minutes and within 30 minutes you'll be sitting down and enjoying ladles of hearty, warm and filling soup.
Serve with some crusty bread on the side for lunch and the family will be full until dinner time.
Leek and Potato Soup
Serves 4
Preparation Time 10 minutes
Cooking Time 30 minutes
Ingredients

50g (2 oz) butter
1 clove garlic, chopped
1 small onion, chopped
3 large leeks, chopped
3 medium potatoes, peeled and diced
900ml vegetable stock
Small handful chopped fresh parsley
Salt and fresh ground black pepper to taste
Preparation
Melt the butter in a large saucepan on medium heat and sauté the garlic and onions for a few minutes, stirring frequently.
Add the remaining ingredients and bring to the boil. Simmer for 30 minutes. Purée soup with a hand blender.
Serve with fresh crusty bread.