Tag: reading
Some of our favourite books at the moment are The Tiger Who Came to Tea
by Judith Kerr, Choo Choo Clickety Clack
by Margaret Mayo and Alex Ayliffe and the lovely Tell Me the Day Backwards
by Albert Lamb.
The Tiger Who Came to Tea
is a lovely story of a girl and her Mummy who are having tea when the doorbell rings. Who could it be? A tiger! I love the pace of the story which keeps you wanting to turn each page and the classic illustrations are large and bright.
If your child has an interest in travelling and vehicles the brilliant Choo Choo Clickety Clack
has pages devoted to trains, aeroplanes, motorbikes, bicycles, cars, sailing boats, hot air balloons, ferry boats, racing cars, buses and cable cars. Each page is full of activity relating to the different modes of transport.
Tell Me the Day Backwards
is a delightful story of Mummy bear, Daddy bear and Baby bear as they tell the story of their day backwards before bedtime. As well as being a great way to encourage story telling with your children it also has a very calm tone and makes a perfect bed time story.
The lovely team at Kidstoria contacted me to see if I would like a personalised book for Imogen. It was the first time I had come across the idea of a personalised book for children. I have discovered it is a wonderful way to create a fun learning experience as well as being a precious keepsake.
The personalised book for Imogen where she is the main character of her very own story.
You have the choice of four different story options for your child's book. These can be previewed on the Kidstoria website so you know exactly what the story entails. Each story is suitable for boys and girls and is customised with your child's name and face.
Imogen reads 'Imogen and the Picnic' for the very first time. At first she is slightly surprised to see herself as a character in the story! It's not long before she starts talking about Teddy who is sharing the picnic with her and what they are eating together.
Imogen points out small details and talks about the characters in the illustrated pictures.
Daddy reads the story with Imogen as she explains what she is doing in the story with Teddy. This is a fabulous way to encourage the great imaginations of little ones.
As well as books, Kidstoria also create personalised cards for babies and children.
Disclaimer: Kidstoria sent me a personalised children's book for the purposes of this review. All opinions and thoughts are my own.
Linking up with What's the Story? and Magic Moments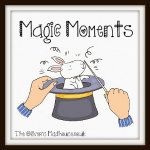 Did you know it's International Book Giving Day on February 14?
This is a day that's dedicated to getting new, used and borrowed books into the hands of as many children as possible.
We love books and the pleasure they provide babies and children is immeasurable. Books nurture great imaginations and provide fun ways to learn whilst developing reading and writing skills.
There are some great ideas for getting involved and giving books to children in aid of International Book Giving Day. Here are three simple ways to celebrate from the International Book Giving Day website.
1. Give a Book to a Friend or Relative
Celebrate International Book Giving Day by giving a child a new, used or borrowed book.
2. Leave a Book in a Waiting Room or Lobby
Choose a waiting room where kids are stuck waiting and there are few to no good books available. Purchase a good book, and deposit your book covertly or overtly in your waiting room of choice. The goal here is to spread the love of reading to kids, so choose a fun book, nothing controversial.
3. Donate a Book
Wrap up a box of children's books that your kids have outgrown and get them in the hands of children who could really use a book or two. Donate your books to your local second hand store, library, children's hospital, or shelter. Alternatively, donate your books to an organization working internationally to get books in the hands of kids, such as Books for Africa.
I've brought some baby books to New Zealand and we're going to give them to the babies and children in the Pediatric Ward at Hutt Hospital.
How will you be donating books to children on International Book Giving Day?