Tag: babies
Last Saturday I was invited to attend the launch of Annabel Karmel's new App Annabel's Essential Guide to Feeding Your Baby & Toddler at the Apple iStore in Regent Street.
The event was hosted by TV and radio presenter Jenni Falconer. Annabel talked about being a mother, coping with fussy eaters and how she began writing recipe books. Her career takes her all over the world as she continues to educate and encourage millions of parents on how to create simple and healthy meals for baby, toddler and child.
Annabel gave a demo of her new App which includes 200 healthy recipe ideas, handy meal planners that you can personalise to suit your family, a shopping list feature and videos showing how to prepare food. This App ensures you'll never be stuck for ideas at mealtimes. There's a handy section on Tips and Advice covering everything from foods for babies and toddlers to allergies and batch cooking.
Since Imogen was a baby I've read the range of Annabel Karmel Books
and found them helpful as easy reference guides to weaning and now for generating toddler meal ideas.
I met a wonderful group of bloggers at this event and after the launch we all sauntered in the London sun to 5th View in Piccadilly to have afternoon tea with Annabel Karmel and her lovely team.
We walked to Victoria Park in London today with our bouncing toddler rearing to go on the big slides, a picnic rug and an essential lunch bag full of fruit and cheese sandwiches.
There's nothing better than being outdoors and running around a park. Victoria Park underwent a huge refurbishment from 2011 until April 2012. There are now some incredible play areas that cater for children of all ages from young babies to teenagers.
Feeding the ducks and the pigeons by the large pond.
Trousers, socks and shoes come off for some splashing in the sand and water play area.
The English Garden with pretty purple flowers.
Having fun with Daddy in the big kids playground!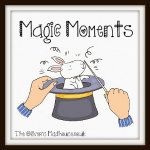 It's exciting to experiment with new foods when weaning your baby. Whilst most foods are safe there are some foods that should only be introduced when your baby is of a certain age to allow for the development of your baby's digestive system and immune system.
When weaning my baby I found it helpful to follow these simple guidelines for the safe introduction of different foods to ensure my baby was getting the right nutrition at the right time and to minimise the risk of food poisoning.
When can my baby eat …?
Gluten
Gluten is found in grains such as rye, wheat, barley and oats. It can be hard for young babies to digest and should not be introduced before your baby is six months old.
Cow's Milk
From the age of six months full-fat cow's milk can be used in cooking and with baby's breakfast cereals. Cow's milk can be introduced as a main drink from the age of 12 months.
Cheese
From the age of six months you can offer cheese to your baby but avoid giving blue cheese or soft unpasteurised cheese, such as Camembert and Brie, until your baby is at least one year old. Blue cheese and unpasteurised cheese contain live bacteria which carries the risk of food poisoning.
Eggs
Your baby can eat well cooked eggs with the white and yolk of the egg being solid from the age of six months. Do not give raw or undercooked eggs to babies under the age of 12 months old.
Fish
From six months you can give your baby white fish and oily fish, such as tuna and salmon. No more than two portions of oily fish should be eaten per week. Shark, swordfish and marlin should not be eaten by babies as these may contain traces of mercury.
Shellfish should not be given to babies under the age of nine months and must always be well cooked to minimise the risk of food poisoning.
Nuts
If there is no peanut allergy in your immediate family you can give your baby peanut products from the age of six months. Due to the risk of choking whole peanuts and other nuts must not be given before your child is five years old.
Honey
The bacteria in honey can cause infant botulism and although rare, to be on the safe side honey should not be given to babies under 12 months as their digestive system is too immature to cope.
I always advise parents to stay clear of food additives such as salt and sugar which hold no nutritional value for babies. Salt can cause dehydration and strain a baby's immature kidneys and sugar can increase the risk of tooth decay.
Enjoy introducing foods and create a happy and healthy weaning experience for your baby.
Lydia Oliver – Nutritional Advisor Only Best For Baby
This article was published in the May 2013 edition of Mummy and Me Magazine. 
I offer one to one nutrition programmes for breastfeeding, post pregnancy weight loss, weaning, weight management and health. Contact me.