Tag: children
A few weeks ago I was contacted by Zalando and kindly asked if I would like to experience shopping at Zalando.co.uk. To be perfectly honest, I hadn't heard of Zalando before and I quickly jumped online to have a look. The first thing that stood out to me was the incredible range of products available for the whole family. Everything from shoes to children's clothing to women's fashion to men's sportswear and homeware.
It was a pleasure to browse the vast selection of Fashion and Accessories from brands around the world, with some amazing designers from Europe.
In the Children's Wear section I discovered a beautiful linen dress from the Danish clothing brand Noa Noa that I chose for Imogen. It is slightly too large for her to wear now but it will fit perfectly next summer. I can just imagine this pretty dress being worn on a summer's day or for a special occasion.
I love this colourful and fun hat rack by Present Time in Homeware. It is designed in Holland and would look great in a nursery or child's bedroom. The brightly coloured balls are the perfect size for hanging children's coats, hats and items of clothing on.
We placed it on Imogen's bedroom wall and find it is wonderful for holding her coats, hats, scarves, bags and blankets. It conveniently keeps Imogen's outdoor accessories handy and organised for when we're rushing out of the door to get to the park!
Having previously bought items of clothing for Imogen from the Danish brand, Name It, I decided to select a couple of long sleeved tops and leggings from Zalando. These are comfortable for everyday play and wash really well.
From Zalando Home I selected a set of beautiful hand blown glass hurricane lamps from Germany. Both purple, one is almost transparent and the other is a darker shade. They look stunning when the sun shines through and with a lit candle they provide a glow of ambient light.
My shopping experience at Zalando.co.uk was fun, easy and it opened my eyes to an online store that conveniently sells everything you need for both your family and your home. I've bookmarked Zalando and will be shopping online again very soon.
Disclosure: Zalando offered me a voucher that I used to buy these items in exchange for this sponsored post. All opinions and thoughts are my own.
The lovely team at Kidstoria contacted me to see if I would like a personalised book for Imogen. It was the first time I had come across the idea of a personalised book for children. I have discovered it is a wonderful way to create a fun learning experience as well as being a precious keepsake.
The personalised book for Imogen where she is the main character of her very own story.
You have the choice of four different story options for your child's book. These can be previewed on the Kidstoria website so you know exactly what the story entails. Each story is suitable for boys and girls and is customised with your child's name and face.
Imogen reads 'Imogen and the Picnic' for the very first time. At first she is slightly surprised to see herself as a character in the story! It's not long before she starts talking about Teddy who is sharing the picnic with her and what they are eating together.
Imogen points out small details and talks about the characters in the illustrated pictures.
Daddy reads the story with Imogen as she explains what she is doing in the story with Teddy. This is a fabulous way to encourage the great imaginations of little ones.
As well as books, Kidstoria also create personalised cards for babies and children.
Disclaimer: Kidstoria sent me a personalised children's book for the purposes of this review. All opinions and thoughts are my own.
Linking up with What's the Story? and Magic Moments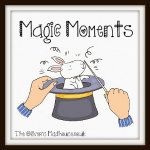 I treated myself to my first ever pair of Just Sheepskin slippers last week and oh my goodness! These are heaven for keeping my feet warm, snug and cosy.
Just Sheepskin slippers are made from 100% sheepskin with a slip resistant sole and keep your feet warm up to -32°C in winter and in summer keep your feet cool up to 25°C making them versatile for year round wear.
I chose the Ladies Lockwood Sheepskin Slippers. I like the style of these and find them quick and easy to slip on and off. The quality of these slippers is outstanding.
There's also a range of slippers and boots for men, children, toddlers and some very cute baby sheepskin booties. Imogen is now asking me where her 'furry' slippers are, she is rather disappointed my slippers don't fit her!