Tag: recipes
Welcome to my series of weekly family meals. I'll share my favourite fresh, nutritious, easy and quick meals for the whole family to enjoy. Where possible, we always eat and cook with organic ingredients. I like to buy the freshest produce for my family to ensure we're getting the essential vitamins and minerals we need through our food.
This week's family meal is Mild Veg Curry. It's healthy, quick and delicious.
Serves 4
Prep Time 10 minutes. Cooking Time 25 minutes.
Ingredients
1 Onion
3 cloves of Garlic
2 Sweet Potatoes
2 Carrots
Head of Brocoli
500g Passata
Patak's Mild Curry Paste
Wholegrain Rice
I love Waitrose Organic Passata and Waitrose Organic Whole Grain Rice.
The Passata is made of 100% organic tomatoes and provides a smooth and tasty sauce to which you can add herbs and spices as you please. I always use whole grain brown rice instead of white rice for it's nutty full flavour and health properties.
Let's Make Mild Veg Curry
Method
1. Wash, peel and chop the potatoes and carrots. Boil until soft.
2. Start cooking the rice (this will take approx. 20 – 25 mins).
3. Chop and saute the onion and garlic in some olive oil.
4. Wash and chop the broccoli into small bite sized cuts. Add to the onion and garlic for a few minutes and stir occasionally.
5. Add a heaped teaspoon of Patak's Curry Paste into the onions, garlic and broccoli. Stir together.
6. Add the cooked sweet potatoes and carrots to the pan and stir. Pour in the Passata and stir. Simmer for 10 minutes stirring occasionally.
7. When the rice is cooked you're ready to eat. Enjoy!
Looking for ideas for nutritious and quick Family Meals? Try my healthy recipes: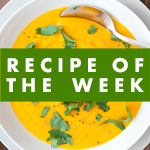 I can't stop Imogen from venturing into the garden and I don't want to, although she would be out at all hours if she had the chance and was allowed to stay up throughout the night.
It's absolutely wonderful she has green fingers at such a young age. Hubby and I are keen nature lovers and Imogen's been watching. She's heard us talk about birds, flowers, fauna, insects and wildlife since she was a tiny baby and we had our first family holiday in Orford.
Every morning as soon as she wakes we look outside and assess the weather with Imogen giving me the lowdown. Windy trees, misty, sun, rain or fuffa for cloudy. And then it's shouts of Outside Garden. This is what Imogen's named my parent's garden in New Zealand. It's not an inside garden is it?
I love being outside and in the garden. My dreams are to landscape our 2.5 acres of land in Brittany, France. It's in a state at present given that we can't be there enough to keep on top of the weeding, manage the brambles or prune the trees. But when we are there it's all hands to the deck and what we achieve is nothing short of a miracle in such a short time.
Whilst we're not working on our garden in France I love to use any spare time I have learning about gardening online. There are some amazing resources and very inspiring gardeners who give me lots of ideas and helpful hints for the near future.
Two of my favourite Gardening Blogs are The Enduring Gardener with all sorts of helpful tips and facts on gardening whilst being a thoroughly great read and My Tiny Plot a blog about vegetable gardening, seasonal cooking and family life in Portland Oregon.
And if you're after some quick and purse friendly recipes then head over to Love and Olive Oil which is one of my favourite food blogs. When my vegetables are growing in my garden this blog will provide me with the inspiration for some delicious family meals.
What's your best gardening tip?
Happy New Year!
What are your New Year's resolutions?
Some of my resolutions this year:
Discover new and exciting places to visit in London with a toddler
Practise yoga at least twice a week
Expand my recipe list for super quick and healthy meals
Learn French to an intermediate level
Start work on our renovation project in Brittany France
Develop my love of photography
I'm really excited about this year and everything that's going to be featured on Only Best For Baby.
There'll be parenting news and tips, nutritional advice for families, healthy lifestyle features, great recipes, baby and toddler product reviews, holiday and travel updates and I'll be sharing insights into life with a toddler.
You can stay in touch on Twitter and Facebook.
Here's to a great 2013!