Tag: snack
As a family we do love our organic oats. I make Healthy Flapjacks with oats to take out as a snack and every morning Daddy makes three large bowls of porridge. You wouldn't be wrong for mistakenly thinking we are the three bears in Goldilocks.
I thought we'd stop eating porridge during the summer months but we just kept going! I like my summer porridge breakfast with a topping of grated apple and cinnamon or with a handful of summer berries (which turn the porridge a delightful red colour).
And in winter a good bowl of porridge with raisins keeps us going throughout the morning.
Porridge is so easy to make. Gently heat some milk in a pan, add the oats and some water, sprinkle in some raisins and gently keep stirring as the oats soak up the liquid and the raisins soften. A delicious and healthy breakfast!
It's cold and raining outside. Time to whip up some quick and healthy Banana Muffins for everyone to munch on. This recipe is a favourite of mine and is super easy.
Makes 12 Banana Muffins
Ingredients
2 cups Brown Self-Raising Flour
2 free-range Eggs
1 Orange
2 large Bananas
1/4 cup Vegetable Oil
3 Dried Apricots
1 teaspoon All Spice
Method
1. Preheat the oven to 180 C. Grease a 12 cup muffin tin or line with paper muffin cases.
2. Finely chop the dried apricots, mash the banana, squeeze in the fresh orange juice and mix together.
3. Add the vegetable oil and stir into the mashed banana and apricots.
4. Add the eggs and mix well.
5. Gently stir in the flour and all spice.
6. Bake at 180 C for 20 minutes or until a cake skewer inserted in the middle of a muffin comes out clean.
7. Leave the muffins to cool on a wire rack for a few minutes.
These Banana Muffins are great for the family to enjoy at breakfast time, as a tasty snack during the day or pop one into the children's lunch boxes.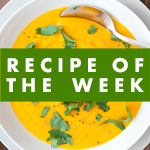 I promised in my Homemade Advent Calendar post last week that I'd share my recipe for Healthy Flapjacks. I'll be popping some of these into Imogen's Christmas advent calendar as a deliciously natural, sweet and chewy treat.
These are easy to make and last for several days in the fridge if you can keep them for that long without little (or big) fingers getting hold of them…
Makes 15 Flapjacks
Ingredients
1 Apple
60 ml 100% Orange Juice
1 cup Whole Rolled Oats
1/3 cup Raisins and finely chopped Dried Apricots
3 teaspoons Sesame Seeds
1 teaspoon Cinnamon
Method
1. Heat the oven to 180 C. Line a 22cm cake tin with baking paper.
2. Wash and core the apple. Cut into thin slices and place in a pan. Add the Orange Juice and bring to the boil.
3. Reduce the heat and simmer for 10 minutes, uncovered and stirring occasionally until the apple is soft.
4. Puree the Apple and Orange Juice with a hand-held mixer or in a food processor.
5. Stir the Cinnamon, Oats, Sesame Seeds, Raisins and Dried Apricots into the apple puree and mix well.
6. Tip the mixture into the tin and spread out evenly at approximately 1 cm thick.
7. Bake for 20 to 25 minutes until firm and golden brown.
8. Let it cool before cutting into wedges.
As an alternative to buying organic muesli bars I make flapjacks with organic ingredients and we take a couple out with us each day for after the playground. Some weeks I use pears rather than apples and substitute the orange juice for apple juice. Have fun creating your own version.
Enjoy healthy flapjacks as snacks, an after dinner treat or pop into your child's lunch box.