It's cold and raining outside. Time to whip up some quick and healthy Banana Muffins for everyone to munch on. This recipe is a favourite of mine and is super easy.
Makes 12 Banana Muffins
Ingredients
2 cups Brown Self-Raising Flour
2 free-range Eggs
1 Orange
2 large Bananas
1/4 cup Vegetable Oil
3 Dried Apricots
1 teaspoon All Spice
Method
1. Preheat the oven to 180 C. Grease a 12 cup muffin tin or line with paper muffin cases.
2. Finely chop the dried apricots, mash the banana, squeeze in the fresh orange juice and mix together.
3. Add the vegetable oil and stir into the mashed banana and apricots.
4. Add the eggs and mix well.
5. Gently stir in the flour and all spice.
6. Bake at 180 C for 20 minutes or until a cake skewer inserted in the middle of a muffin comes out clean.
7. Leave the muffins to cool on a wire rack for a few minutes.
These Banana Muffins are great for the family to enjoy at breakfast time, as a tasty snack during the day or pop one into the children's lunch boxes.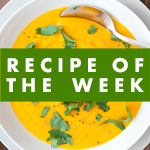 Category: Blog, Health & Nutrition, Recipes