Category: Health & Nutrition
I promised in my Homemade Advent Calendar post last week that I'd share my recipe for Healthy Flapjacks. I'll be popping some of these into Imogen's Christmas advent calendar as a deliciously natural, sweet and chewy treat.
These are easy to make and last for several days in the fridge if you can keep them for that long without little (or big) fingers getting hold of them…
Makes 15 Flapjacks
Ingredients
1 Apple
60 ml 100% Orange Juice
1 cup Whole Rolled Oats
1/3 cup Raisins and finely chopped Dried Apricots
3 teaspoons Sesame Seeds
1 teaspoon Cinnamon
Method
1. Heat the oven to 180 C. Line a 22cm cake tin with baking paper.
2. Wash and core the apple. Cut into thin slices and place in a pan. Add the Orange Juice and bring to the boil.
3. Reduce the heat and simmer for 10 minutes, uncovered and stirring occasionally until the apple is soft.
4. Puree the Apple and Orange Juice with a hand-held mixer or in a food processor.
5. Stir the Cinnamon, Oats, Sesame Seeds, Raisins and Dried Apricots into the apple puree and mix well.
6. Tip the mixture into the tin and spread out evenly at approximately 1 cm thick.
7. Bake for 20 to 25 minutes until firm and golden brown.
8. Let it cool before cutting into wedges.
As an alternative to buying organic muesli bars I make flapjacks with organic ingredients and we take a couple out with us each day for after the playground. Some weeks I use pears rather than apples and substitute the orange juice for apple juice. Have fun creating your own version.
Enjoy healthy flapjacks as snacks, an after dinner treat or pop into your child's lunch box.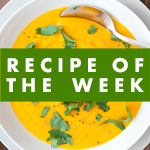 If you're looking for a super quick and healthy meal that can be eaten for lunch or dinner my Butternut Squash soup is perfect. I serve it with Biona Organic Rye Bread
which is delicious, nutritious and wheat free.
Packed with nutrients this hearty Butternut Squash Soup recipe is great if you want to save time and prepare extra for enjoying later during the week or month. It can easily be frozen, defrosted and reheated when needed.
Serves 4
1 Butternut Squash Pumpkin
1 Red Onion
2 cloves Garlic
Dash of Olive Oil for cooking the onion and garlic
Pinch of All Spice
Ground Pepper to taste
1. Chop the onion and crush the garlic. Saute in a little olive oil.
2. Peel and chop the butternut squash pumpkin into small cubes. Bring to the boil and cook until soft.
3. Drain the butternut squash keeping approximately 500 ml of the water.
4. Add a pinch of All Spice for flavour.
5. Use a handheld blender to blend the butternut squash, water, onion and garlic. Add extra water and blend as needed until you have your preferred consistency for the soup.
6. Add ground pepper to taste. Serve with organic rye bread (or toast).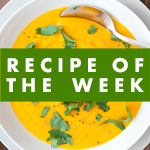 I love grating raw beetroot into salads but with the cold weather I've been craving warmer foods. A few days ago I made roast beetroot using delicious organic beetroot from Waitrose. To get the full sweetness and nutritional goodness I simply roast beetroot in a little olive oil. Roast beetroot has an intensified sweet flavour that's delicious.
Gently wash and slice the beetroot into wedges. Toss in a little olive oil.
Roast at 180 C for approximately 40 minutes or until soft. Serve as a starter, eat as a snack, add to a salad or accompany the beetroot with your main meal.