If you're looking for a super quick and healthy meal that can be eaten for lunch or dinner my Butternut Squash soup is perfect. I serve it with Biona Organic Rye Bread
which is delicious, nutritious and wheat free.
Packed with nutrients this hearty Butternut Squash Soup recipe is great if you want to save time and prepare extra for enjoying later during the week or month. It can easily be frozen, defrosted and reheated when needed.
Serves 4
1 Butternut Squash Pumpkin
1 Red Onion
2 cloves Garlic
Dash of Olive Oil for cooking the onion and garlic
Pinch of All Spice
Ground Pepper to taste
1. Chop the onion and crush the garlic. Saute in a little olive oil.
2. Peel and chop the butternut squash pumpkin into small cubes. Bring to the boil and cook until soft.
3. Drain the butternut squash keeping approximately 500 ml of the water.
4. Add a pinch of All Spice for flavour.
5. Use a handheld blender to blend the butternut squash, water, onion and garlic. Add extra water and blend as needed until you have your preferred consistency for the soup.
6. Add ground pepper to taste. Serve with organic rye bread (or toast).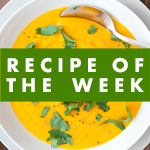 Category: Blog, Health & Nutrition, Recipes, Weaning & Mealtime