Tag: organic
Here's my simple recipe for beef and vegetable stew, a hearty meal for the winter. Delicious served with a side of greens and some crusty bread to mop up the gravy.
Ingredients
400g diced organic Stewing Beef
2 Carrots
2 Sweet Potatoes
3 Potatoes
3 Tomatoes
2 small Red Onions
3 cloves Garlic
Vegetable stock cube made to 250 ml water
300 ml Organic Passata (I buy this from Waitrose)
Dash of Worcestershire sauce
Italian dried herbs
Flour to dust
Pepper to taste
Method
1. Cut the beef into small pieces and lightly dust in flour. Add to pan of olive oil and fry the beef until brown on all sides. Transfer into a small bowl whilst the vegetables are prepared.
2. Peel and chop the carrots, sweet potatoes and potatoes into small cubes.
3. Wash and dice the tomatoes.
4. Chop the onion and garlic.
5. Saute the onion and garlic for a few minutes. Add the chopped vegetables and beef.
6. Mix a cube of vegetable stock in 250ml boiled water. Add 300 ml of Passata to the stock mixture.
7. Add the stock, Passata, sprinkle of dried herbs and dash of Worcestershire sauce to the pan of beef and vegetables. Stir gently and leave on a medium heat for 10 minutes.
8. Transfer into an oven proof dish with lid and cook in oven at 180 degrees Celcius for 1.5 hours or until the beef is tender.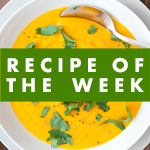 My favourite kind of lunch or dinner is fast, healthy and always organic. Last night I made Organic Spelt Pasta with tinned tuna and organic spinach. This is a healthy family meal that can be made in just over 5 minutes.
The Biona Organic Fusili Spelt Pasta
cooks in just 5 minutes, I boiled the spinach for 20 seconds to retain as many nutrients as possible, opened a tin of tuna in spring water and stirred in a little organic olive oil.
I also buy Biona Organic Rye Bread
which Imogen and hubby both love, so we all enjoy the health benefits of eating spelt and less wheat. Another of my favourite combinations is Organic Spelt Penne Pasta with Spinach and Avocado.
Delicious and nutritious!
As a family we do love our organic oats. I make Healthy Flapjacks with oats to take out as a snack and every morning Daddy makes three large bowls of porridge. You wouldn't be wrong for mistakenly thinking we are the three bears in Goldilocks.
I thought we'd stop eating porridge during the summer months but we just kept going! I like my summer porridge breakfast with a topping of grated apple and cinnamon or with a handful of summer berries (which turn the porridge a delightful red colour).
And in winter a good bowl of porridge with raisins keeps us going throughout the morning.
Porridge is so easy to make. Gently heat some milk in a pan, add the oats and some water, sprinkle in some raisins and gently keep stirring as the oats soak up the liquid and the raisins soften. A delicious and healthy breakfast!