Tag: nutritious
My favourite kind of lunch or dinner is fast, healthy and always organic. Last night I made Organic Spelt Pasta with tinned tuna and organic spinach. This is a healthy family meal that can be made in just over 5 minutes.
The Biona Organic Fusili Spelt Pasta
cooks in just 5 minutes, I boiled the spinach for 20 seconds to retain as many nutrients as possible, opened a tin of tuna in spring water and stirred in a little organic olive oil.
I also buy Biona Organic Rye Bread
which Imogen and hubby both love, so we all enjoy the health benefits of eating spelt and less wheat. Another of my favourite combinations is Organic Spelt Penne Pasta with Spinach and Avocado.
Delicious and nutritious!
If you're looking for a super quick and healthy meal that can be eaten for lunch or dinner my Butternut Squash soup is perfect. I serve it with Biona Organic Rye Bread
which is delicious, nutritious and wheat free.
Packed with nutrients this hearty Butternut Squash Soup recipe is great if you want to save time and prepare extra for enjoying later during the week or month. It can easily be frozen, defrosted and reheated when needed.
Serves 4
1 Butternut Squash Pumpkin
1 Red Onion
2 cloves Garlic
Dash of Olive Oil for cooking the onion and garlic
Pinch of All Spice
Ground Pepper to taste
1. Chop the onion and crush the garlic. Saute in a little olive oil.
2. Peel and chop the butternut squash pumpkin into small cubes. Bring to the boil and cook until soft.
3. Drain the butternut squash keeping approximately 500 ml of the water.
4. Add a pinch of All Spice for flavour.
5. Use a handheld blender to blend the butternut squash, water, onion and garlic. Add extra water and blend as needed until you have your preferred consistency for the soup.
6. Add ground pepper to taste. Serve with organic rye bread (or toast).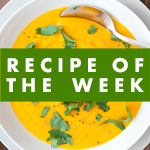 We made fruit muffins this week which are delicious snacks to take out when we're at the playground and have spent the morning or afternoon running around, climbing and on the swings.
They're also perfect for breakfast when you're on the run.
These healthy muffins have no added sugar as the fresh fruit mixture and raisins naturally sweeten them.
Makes 12
Prep time 10 minutes.
Cooking time 20-25 minutes.
Let's make No Sugar Muffins with Banana, Apple, Carrot and Raisins
You'll Need:
2 ripe bananas
1 organic apple
1 large organic carrot
1/3 cup raisins
1 1/2 cups self-raising organic flour
1 free-range organic egg
1/4 cup organic milk
75g organic butter
1. Preheat the oven to 170 C.
2. Grate the carrot and apple.
3. Mash the bananas.
4. Add the carrot, apples and raisins to the mashed banana.
5. Melt the butter and add to the fruit mix, stirring through until just blended.
6. Add the egg and mix well.
7. Stir in flour, add milk and mix lightly.
8. Add the mixture to a lightly greased muffin tin or add to paper muffin cups.
9. Bake at 170 C for 20-25 minutes or until a cake skewer comes clean.
10. Place the muffins on a wire tray to cool for a few minutes.
Mashing the banana with a fork.
Adding the grated carrot, apple and raisins to the banana.
Ready for tasting!
Looking for ideas for nutritious and quick Family Meals? Try my healthy recipes: